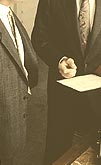 We shall serve our clients with advanced dynamic solutions for printing.

We shall foster long-term strategic alliances with our clients by meeting their demanding needs.

We shall continuously seek the latest technologies that serve to develop printing, in the interest of serving our clients with constant progress.

We shall strive to attain leadership in our field.